Bosch Builds Community
Bosch seeks long-lasting solutions to make the community a better place
The Bosch Community Fund, the corporate foundation for Bosch in North America was established in 2011 to provide community engagement and philanthropic support on behalf of our company. The Fund focuses on the enrichment of science, technology, engineering and math (STEM) education and advancing environmental sustainability initiatives. We partner with 501(c)(3) organizations and educational institutions across the country to provide quality project-based learning hands-on learning opportunities for students and professional development for teachers.
Bosch Community Fund strategy
Focus areas
STEM* education
Support the talent pipeline and address the science knowledge gap.
Grants include support for project-based curriculum for kindergarten through post-secondary education in science, technology, engineering and math. Investments include STEM related content in nontraditional fields such as robotics, coding and Career Technical Education training.
eco + STEM
Support environmental education.
Grants include support for environmental stewardship and project-based education such as water quality testing, energy usage, recycling and other sustainability and environmental curriculum.
Environmental sustainability
Support the conservation and restoration of natural resources.
Grants include support for environmental, conservation and restoration projects such as coastal cleanups, shoreline restoration, nature trail development and pollinator gardens.
Priorities: Teacher Supports & Efficacy, Hands-On/Project Based Learning, Diversity & Inclusion, Sustainability
The Bosch Community Fund drives Bosch's charitable efforts to make a tangible impact in local Bosch site communities throughout the U.S. in 39 locations.
Bosch Community Fund facts
Clear strategy for more sustainability
Bosch's sustainability strategy is based on concrete objectives in all focus areas. We have for many years now been consistently working to realize those objectives.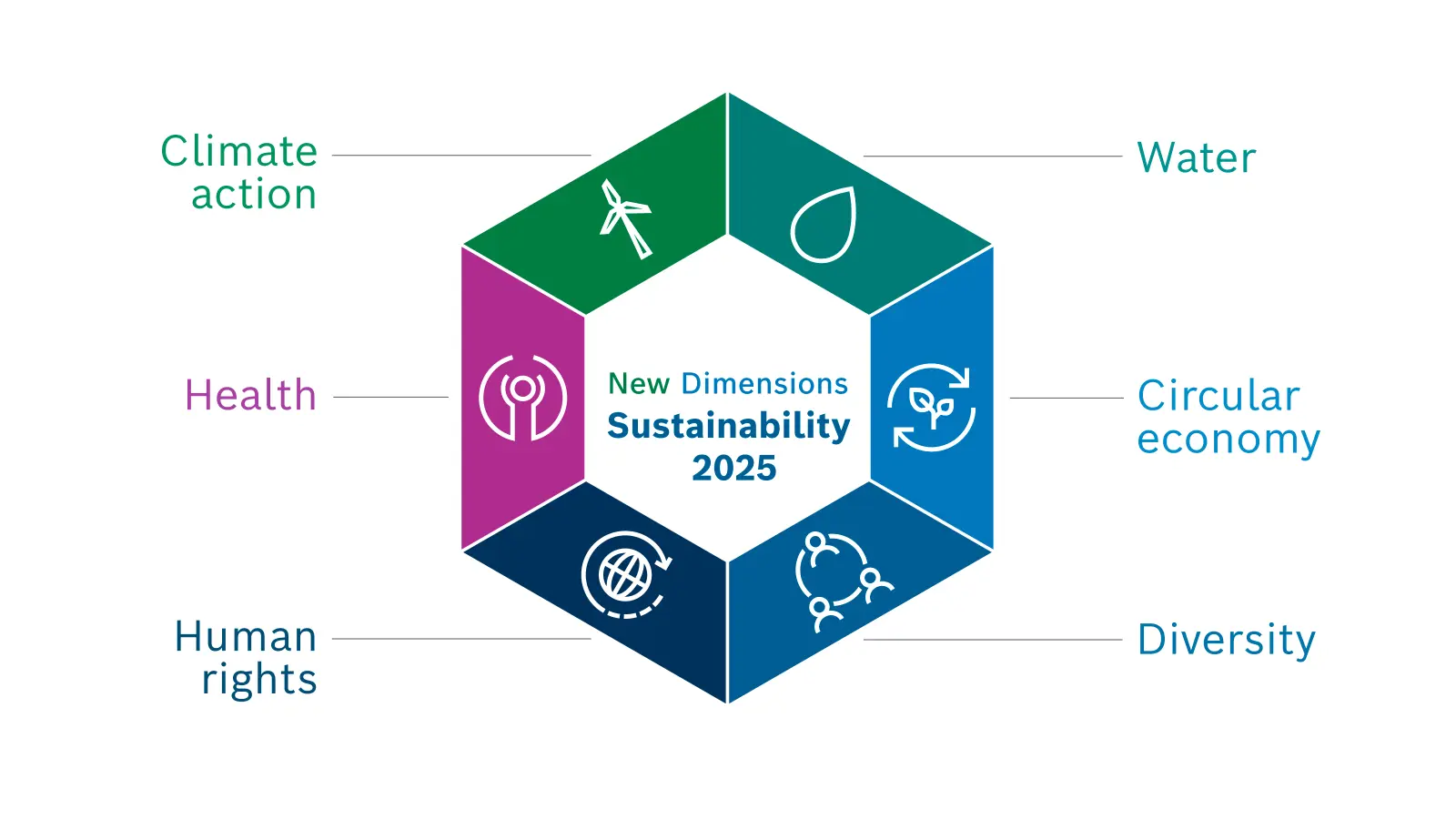 Sustainability is frequently defined as a balance of economic, environmental, and social aspects. At the same time, sustainability has become an established concept on capital markets under the abbreviation ESG (environment, social, governance). Our comprehensive understanding of sustainability combines both of these approaches. It shapes our sustainability management, provides clear orientation at all levels, and ensures that our actions are effective. Accordingly, by acting in an economically, environmentally, and socially responsible manner, we want to improve people's quality of life and safeguard the livelihoods of present and future generations.
Our "New Dimensions — Sustainability 2025" target vision translates this ambition into concrete terms. Derived from the megatrends affecting our company and the findings of our materiality analysis, these objectives set the frame for our activities in the years ahead.